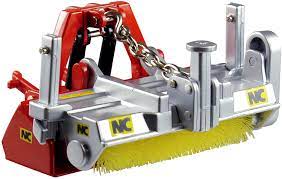 The NC Link-a-Sweep is a versatile implement that attaches to most 1:32 scale tractors from leading farm model maker Britains. As detailed and as functional as the real thing, it can be used without the brush as a hydraulic link-box, to carry timber, gravel and other materials around the yard. 
With the cylindrical brush in place, it operates as a sweeper/collector, tidying the farm yard, barn floor, access roads and so on. When you're ready to empty the link box, simply detach the brush.  Superbly detailed and made of die cast metal with plastic parts, the Link-a-Sweep is a useful addition to your collection of tractors, vehicles and other accessories.
Suitable for indoor and outdoor play, for kids and collectors aged 3+.