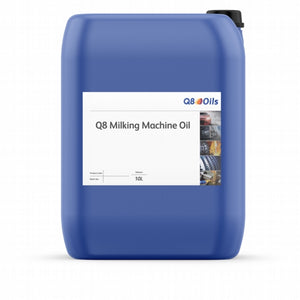 Q8 Milking Machine Oil (10 Litre)
Q8 Milking Machine Oil is a high quality ISO68 lubricant formulated from solvent-refined base oils and an extensive additive package. The formulation lends itself to cold winter mornings with its low pouring point and is also inhibited against corrosion and foaming. Its outstanding lubrication characteristics ensure long and trouble free machinery operation and lifespan.
It is suitable for the lubrication of milking machine vacuum pumps, providing excellent protection to all working parts. It can also be used on other agricultural applications where hydraulic ISO68 oil is required.
Any reference to VAT is for UK customers only.  If you are an ROI business with a valid VAT number for importing then advise of this in notes with your order or phone us on 048 66388068 and we can provide an invoice.